(*The blog is no longer being updated regularly due to the civil war in Syria. Should the situation change or any breakthroughs be achieved, I will post it here*)
Summary

My sister, Jacqueline "Nicole" Vienneau, a Canadian tourist, disappeared in Syria on Saturday, March 31st, 2007 at the age of 32. She was in her fifth month of a six-month solo adventure through West Africa and the Middle East. She was last seen by the desk clerk at 8:30 in the morning as she left the Cairo Hotel in Hama, two hours north of Damascus.




She definitely intended to return to the hotel as her backpack was left in her room along with the memory cards from her camera, full of photos. She also left her journals that include an entry made the night before she disappeared. Canadian police retrieved her Hotmail account email records indicating she attempted to login around 8:30 Friday night but was unable to (Syrian Internet connections are not reliable). Her last completed emails were sent Thursday night.

Nicole's guidebook was also left in her room. In the back of her Lonely Planet "Middle East" guidebook she wrote directions to a number of places in Syria that we believe she copied from the Cairo Hotel's copy of the Lonely Planet "Syria" guidebook. Nicole spoke with some guests about these locations earlier in the week and the hotel clerk indicated that on the morning she disappeared, she asked for directions to the "Beehive Houses", a local sightseeing destination, as well as Qasr Ibn Wardan (a nearby castle).




No one at these locations recalls seeing Nicole (and they are not heavily visited) and the Qasr Ibn Wardan logbook has a record of only one visitor, Amin Ben Yahia, a person of interest to us (b. 1984, Algerian/Swiss nationality, father is Abbas, mother is Monica) in hopes that he remembers something unusual about that day. UPDATE: On January 19th, 2019, Amine contacted me. He does not remember anything unusual.

Nicole preferred taking local transit, but none of the minibus drivers or locals remembers seeing her. As a foreigner, Nicole stood out in all of Syria, but particularly in Hama where the majority of women in Hama dress in robes and cover their hair. The streets from the hotel to the minibus pick-up are main streets with lots of people, even at 8:30 in the morning.




In May 2007, I flew to Syria with Nicole's fiancé Gary to re-trace her steps and meet with police and local officials. Gary spent an additional two months criss-crossing Syria searching for clues. My mother joined Gary in Syria in July 2007 and met with the Grand Mufti as well as the Minister of the Interior. She also made a personal plea on Syrian television and we put ads in the newspapers and local flyers. Gary and my mother returned to Syria in April 2008 to raise awareness and follow up on leads with officials and the police.

My mother returned to Syria with Gary for a third visit in March 2009 and we continue to work with Syrian government and police officials on the investigation.

There is up to 2,250,000 Syrian pounds ($45,000) in reward money for information leading us to Nicole.

We are currently looking for other guests at the Cairo Hotel in case they spoke with Nicole. A list is at the bottom of this page.




For pictures of Nicole and what she was wearing when she disappeared, as well as relevant personal information and summaries of the search so far, please visit:

http://www.findnicolevienneau.com/

From the "official" website, you can also submit anonymous tips, view the picture gallery and download posters and Nicole's notes. Arabic versions of most pages are also available.

You can always email me directly and anonymously at mattv99@hotmail.com

All comments and emails, public and private, are read immediately, but unfortunately I cannot respond to everyone. Feel free to respond in any language that you're comfortable with, though all of my responses will likely be in English.




March 31st, 2012 (Afternoon):

Today marks five years since Nicole disappeared from the Cairo Hotel or in the vicinity in Hama. Despite five years of searching, we really have no new clues as to what has happened to her, though we strongly suspect one of the hotel staff was involved.

Syria today is very different from Syria of five years ago. There are certainly no tourists in Hama anymore, and there probably won't be any going there in the immediate future either.

Hollywood tells us that stories always have an ending, but unfortunately that's just not true. In those first few weeks we were so confident we'd figure out what happened. And then as each lead dried up the worry in the back of our minds increased, "what if we never find her?". That has turned out to be the case and we may end up being one of those families still searching 20 or 30 years later. You can never really give up.

An old friend of Nicole's has been putting huge amounts of effort into finding her. He's been posting on Twitter and updating a blog with details. You can read some updates here, here, and here.

Other people continue to offer suggestions and take action. It is very difficult to keep up hope after so much time has passed. All we need is one person who knows or suspects what happens to come to us, but they'll probably be in Syria and unlikely to have access to us anymore. Hopefully one day.

March 6th, 2012 (Afternoon):

Canada has withdrawn all diplomats and government staff from Syria. All Canadians have been urged to leave Syria. As per the official Government of Canada Travel Report:

"Civil unrest and demonstrations have been occurring in many Syrian cities since March 2011. There has been extensive use of force by the security forces and military in suppressing demonstrations across the country. Many casualties and fatalities have been reported and protests and violent repression are likely to continue. Security operations have involved the complete lock-down of entire towns for periods varying from a few days to a few weeks. This may take place with little warning."

Needless to say, our hopes of getting any information about what happened to Nicole have diminished greatly in the short term.

February 11th, 2012 (Morning):

Syria continues to be in the news as world opinion is slowly being swayed by the stories of what is happening. Once again, no progress on our search as we approach nearly five years since Nicole went missing. To think that at first I thought this could be resolved in five days or at worse, five weeks!

January 7th, 2012 (Afternoon):

Another month of chaos in Syria. In early 2011, the violence in Syria wasn't making the international news very frequently, but that has certainly changed. It is not surprising that we have heard nothing from Syrian officials, Canadian embassy officials, or our own contacts within Syria. This makes it difficult to move forward in the search.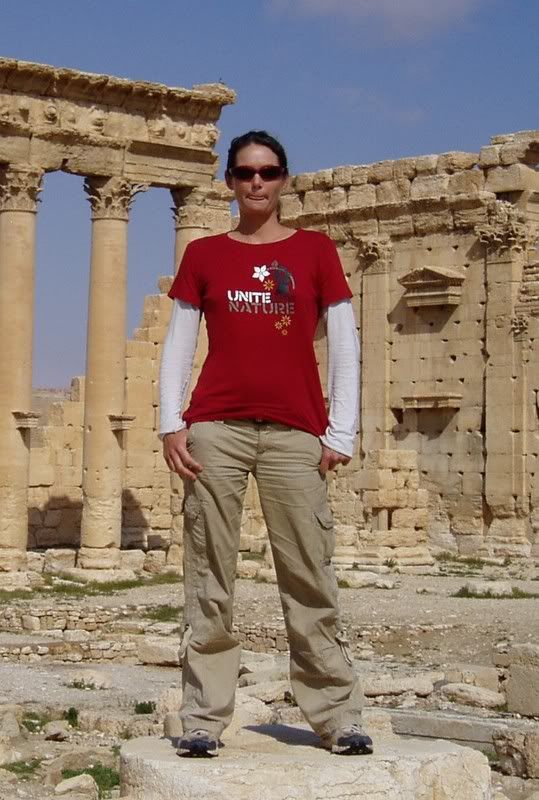 (
Click Here For Additional/Older Details...
Collapse
)